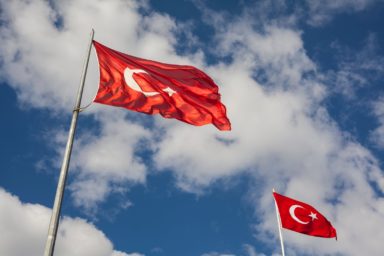 Vehicles are the secret export hit of Turkey. Even before machinery (9,4%) and textiles (9,1%), that was the most exported product group in terms of value in 2018. But also steel and jewelry are of great importance for the Turkish export industry. Overall, it is clear that the economy of Turkey is significantly broader than many other countries in the region and that there are few dependencies in the raw materials sector. The total exports of Turkey of the year 2018 amounted to 142,3 billion euros. Click here to get directly to the TOP 10!
The Turkish economy is currently the 19. largest economy in absolute terms with its population of around 82 million. With a nominal gross domestic product (the sum of all locally produced goods and services in local currency) per capita of around 8.715 US dollars, Turkey is on par with countries like China, Mexico or Brazil.
At 142,3 billion in exports and imports of 188,9 billion euros in 2018, the country had a trade deficit of 46,6 billion euros (difference between imports and exports). The three most important export partners of in 2018 were Germany, which included 9,6% of all Turkish exports, followed by the UK (6,6%) and Italy (5,7%).
The most important single Turkish export items in 2018
Cars and buses made in Turkey are together the most important export product of Turkey in terms of value. Last year, finished cars and buses worth 10,5 billion euros were exported to other countries.
1. Cars and buses: 10,5 billion €
2. Truck: 4,5 billion €
3. Car parts: 3,8 billion €
4. Jewelery: 3,7 billion €
5. Processed oil: 3,2 billion €
The Turkish automotive industry
In 2018, the automotive industry was by far the most important export product of Turkey. 22,7% of all exports resulted from this. This makes Turkey currently one of the 15 largest automakers in the world. Mainly foreign manufacturers and joint ventures (joint ventures of a foreign and Turkish company) are active here. Specifically, trucks are manufactured by Daimler and MAN, for example. Car among others from Ford Otosan, Toyota, Opel and Hyundai. Furthermore, coaches and buses are mostly exported from local manufacturers such as TEMSA, Otokar and BMC.
The Turkish textile industry
Turkey is one of the most important countries of origin for clothing worldwide and currently the third largest clothing supplier for the EU countries - especially for the German and British textile markets. It is of great importance for the Turkish export industry, since around one in ten earned euros comes from this sector.

TOP 10 Export products of Turkey in 2018

Sources:
International Trade Center (ITC).
Magazine Textiletoday.
OECD.
Wikipedia .