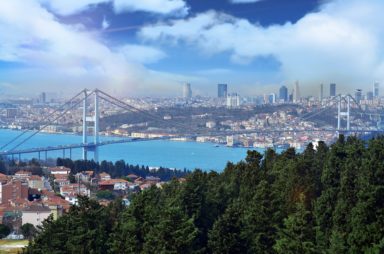 By far the largest company in Turkey in 2017 was the conglomerate Koç with holdings in companies in a wide variety of industries. Turkey's number 2 was Turkey's largest and oldest bank, Isbank (or: Türkiye İş Bankası), which accounted for just over half of Koç Holding's turnover. The conglomerate Sabancı Holding follows as the third largest Turkish company. The most valuable company in Turkey, however, was the guarantee bank (9,0 billion US $), Turkey's second largest private bank, followed by the steel company Erdemir with 8,4 billion US dollars.
Overall, banks are most frequently represented among the ten largest Turkish companies. Namely exactly half of the companies represented were banks. Click here to get directly to the TOP 10!
The No. 1: Koç Holding is Turkey's largest company
The conglomerate Koç Holding was with its 2018 subsidiaries the largest public enterprise in Turkey in 113. Overall, group-wide sales amounted to $ 2018 billion. The company operates in industries such as shipbuilding, automotive sector (including Ford Otosan), the manufacture of electronic equipment (eg Arçelik A.Ş.) or in the education sector (including Koç School, Koç University). It is still majority owned by the founding family Koç, today one of the richest families in Turkey.

The No. 2: Isbank
Isbank is the largest private bank in Turkey and, at the same time, the oldest bank still existing today, founded by 1924 at the direction of the new president, Atatürk. The bank currently operates around 55 branches abroad, mostly in Europe, but also in Turkey's neighboring countries in the Middle East and Asia.
The No. 3: Sabanci Holding
The conglomerate is currently the third largest company in Turkey. It controls 70 companies in a wide variety of industries. For example, in the banking sector Akbank, or has joint ventures with foreign companies such as Bridgestone (Brisa), Carrefour, E.ON (EnerjiSA), HeidelbergCement (Akçansa) or Philip Morris. The company is majority owned by the founding family Sabanci, one of the richest families in the country.

TOP 10 largest companies in Turkey by sales in 2017
Source:
Forbes Global 2000.